Contrary to some people's belief, I am not a full-time sportswriter. I have a master's degree in educational administration and spend my days (and some nights, and the occasional weekend) working in a Dean of Students' office.
When I moved into my office nearly 11 years ago, one of my colleagues told me that I couldn't complain about its size until I had been in it a decade. Last June, I met that milestone.
Not that I'd ever complain about it. I'm blessed just to have four walls. I'm the daughter of a toolmaker and a lunch lady, two positions where you never have an office, so just to have a walls is an accomplishment.
But these four walls have an unusual nickname: the Cloffice. My office doubles as a storage closet for all of the AV and computer equipment my department needs on a regular basis. I have microphones, cameras, video cameras, tripods, batteries, wires…it's like a mini Radio Shack.
It also doubles as the Yearbook office, since I advise the Yearbook and we lost our office space last summer. Add that I'm a pack-rat who has been at the university 12 years. All of that means that the Cloffice is so packed that I can't comfortably have meetings in it. This led to a generation of students naming themselves, "Kat's Doorway Society" a few years back. They had to stand or sit in my doorway to have meetings with me. (It's a little better now, but still not ideal.)
I kind of feel like if the Magic School Bus' Ms. Frizzle was actually a sports-writing university administrator, this would be her office.
I need to make a change for so many reasons, but I have zero design and organizational skills and no actual budget. So…we're going to wing it. I mean, I'm 35 years old and I still pretty much wing everything I do in life, so why stop now? (I realize this is not a good thing, but I also realize if I've been this way for three and a half decades, I'm probably not going to change.)
Here's the before. Please don't call the Hoarders producers. I swear it's under control. (That blue Solo cup is a an "I'm sorry" collection cup, not a prop about the horrors of underage drinking.)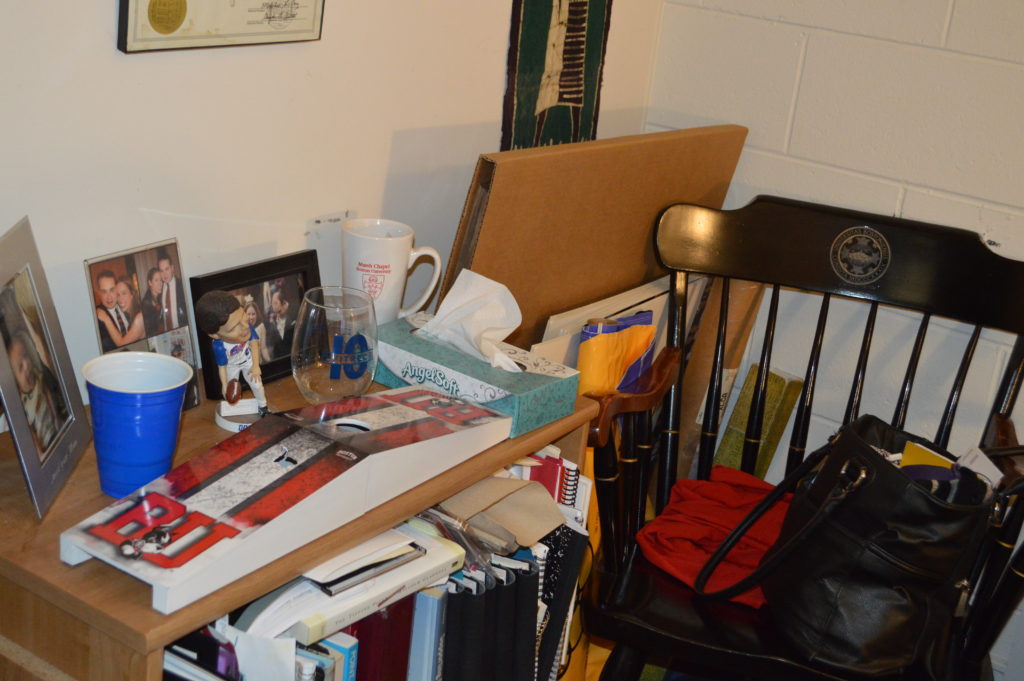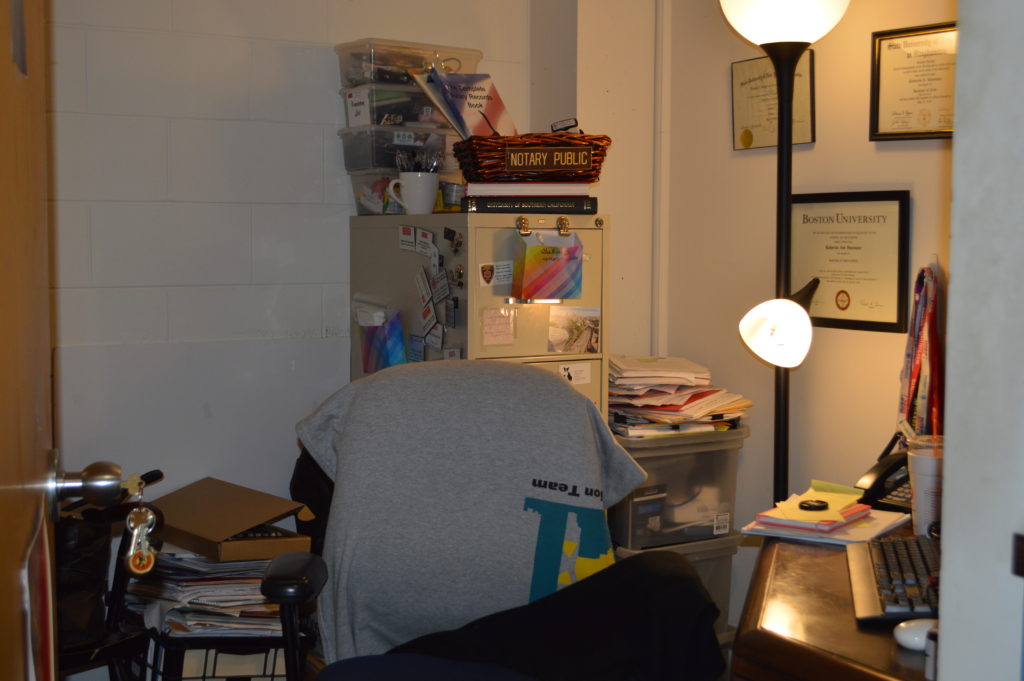 My favorite part of the Cloffice: my giant bulletin board. I've made a handy guide to it for you!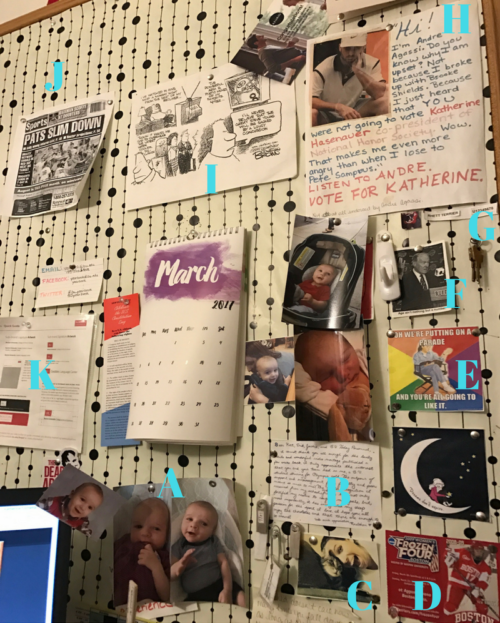 A: Photos of my son.
B: A very nice note from an athlete I wrote about twice.
C: My dear oldest cat Annie and I
D. My best friend Laurel on the 2008-09 BU winter sports schedule card
E. A meme of Kristy from the Baby Sitters' Club books that reads, "Oh we're putting on a parade and you're all going to like it." (I have planned several parades and my childhood friends always compared me to the character, so it's really the perfect meme.)
F. Every office needs a motivational photo of Marv Levy.
G. A photo of Rhett, BU's mascot, and a fake name and University ID number so I can make "fake" IDs to use in social media posts.
H. One of my handmade campaign posters from when I ran for National Honor Society President back in 1999. (I didn't have a computer, so I created fake endorsements from celebrities I cut out from People magazine.)
I. I, as in, I don't know why I still have this depressing thing up. It's a Deseret News comic from 1999 about Steve Young's pending retirement.
J. An image of the first time I ever had a story teased on the back cover of the Boston Herald. It was about Aly Raisman's comeback.
K. A University brand guidelines cheat sheet.
My plan is to try to get at least two projects done a week, and I'll share what I can here. Tips? Ideas? Comment below or tweet me (@KatCornetta.)